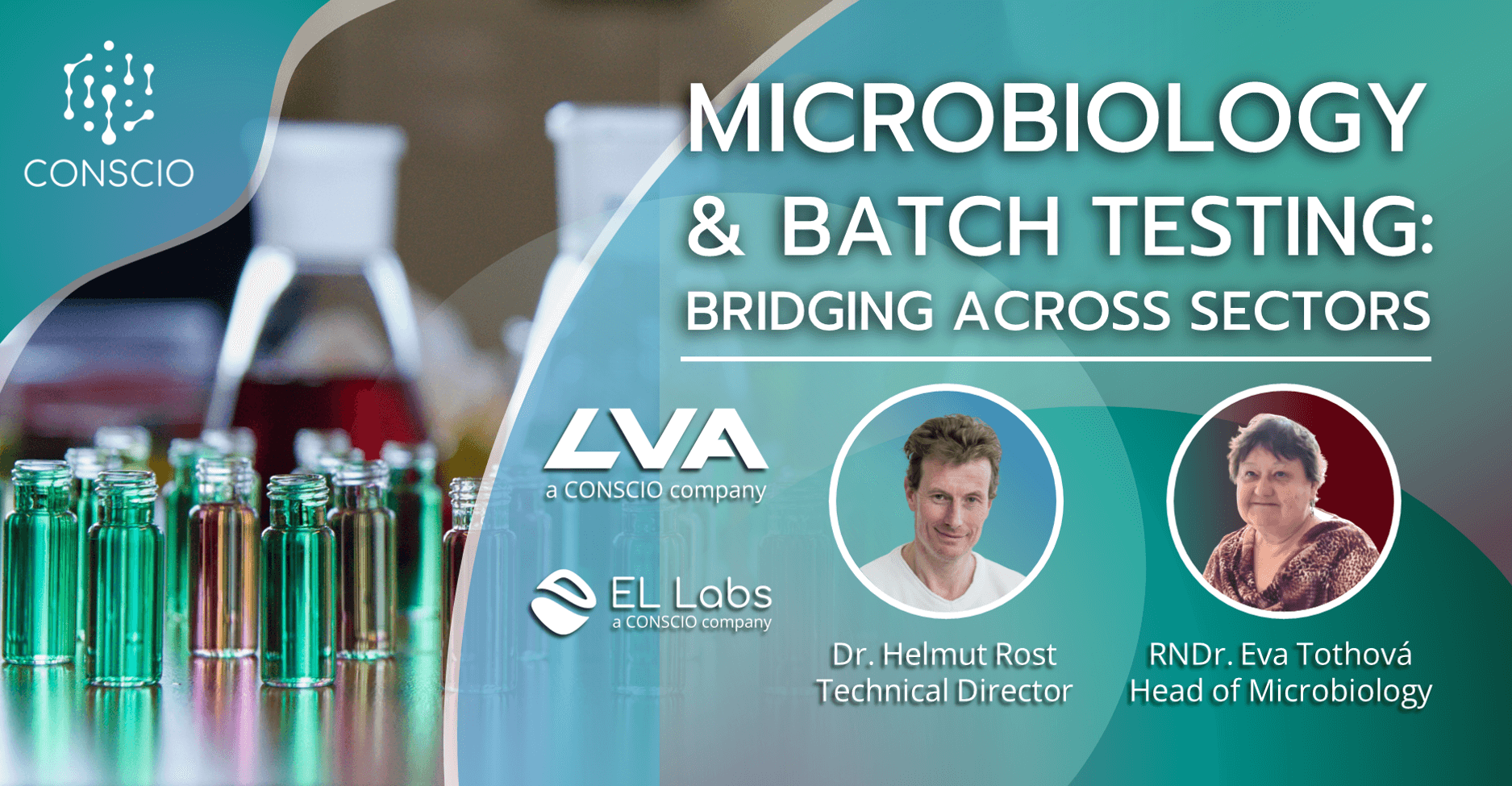 We often talk about our specialty services, but today we look at the bigger picture by shifting the spotlight to the only Conscio Group subsidiaries belonging to both our Pharma and Nutrition Divisions: LVA GmbH in Austria and EL Labs s.r.o. in Slovakia. Helmut Rost and Eva Tothová talk to us about GMP batch testing, microbiological analysis, and the distinctive qualities that set their teams apart: GMP and ISO/EC proficiency, adaptability, robust sample processing, and cost-effectiveness. Join us to learn why LVA and EL stand at an interdisciplinary meeting point where all our end-to-end solutions and cross-industry clients converge.
Dr. Helmut Rost is the Technical Director at LVA; In microbiology he leads a team consisting of qualified veterinarians with specialization in pharmaceutical quality management, with extensive experience in microbiology and qualified persons (QP) who are authorized to sign GMP reports. RNDr. Eva Tothová is the Head of Microbiology and Biology at EL Labs. She brings a wealth of experience with an RNDr. in Natural Sciences and a four-decade-long career covering medical microbiology, hydrobiology, ecotoxicology, hygiene, and food manufacturing.
Dr. Helmut Rost at LVA
The added value of having a foot in both worlds
The interview kicks off with Mr. Rost's initial thoughts: "At LVA our main business is food. However, our microbiology team has expertise in multiple production sectors. In our daily work we handle GMP samples, dietary supplements, liquids, and environmental samples. The challenge for our team is adapting to such a broad variety of dosage forms, formulations, product formats and sample matrices: A task in which we excel. We have hundreds of accredited methods and a robust capacity for sample processing, which really sets us apart from CROs that focus on a single field. Samples are prepared centrally and then sent to our specialized teams, something which also calls for flexible deployment and seamless operational coordination. For instance, we offer quick pathogen detection by PCR analysis together with our molecular biology team, and we can overcome our limitations with sterile drug products in close collaboration with our colleagues within Conscio".
Dr. Tothová jumps in to explain how EL contributes to the process: "We are proficient at sterile work, particularly in analytical method transfers for sterility testing which can be demanding. Every team member is well-trained, interdisciplinary, and open to embracing new and complex projects: Every client is important. Just like our Austrian colleagues, our experience with two quality systems, ISO/EC and GMP, brings many advantages to our clients: With our multidisciplinary structure, we offer a wide range of assays beyond usual microbiological testing, including niche areas like narcotics, psychotropics, testing on specific microorganisms, antibiotics, vitamin microbial assays, amino acid content, endotoxins, toxins, and allergen detection. Furthermore, thanks to the collective expertise of our Group teams, our GMP routine batch testing portfolio is extensive, encompassing high potency active ingredients (HAPIs), stabilities at all climatic conditions, determination of PAHs, PCBs, carbohydrates, fatty acids and all sorts of compounds, impurities, and physicochemical assessments".
Catering pharmaceutical needs with a multisector approach
Helmut Rost weighs in on how his pharmaceutical clients propelled his department: "At LVA we have grown alongside our customers in various sectors such as food & feed, cosmetics, and environment, but our GMP microbiology laboratory was initially tailor-built to meet the pharmaceutical needs of a large animal health multinational client. We frequently handle veterinary products in solid dosage forms: Powders, granules, capsules, and tablets. Our everyday work involves microbial quality checks for non-sterile drug products, APIs, and excipients as per EU Pharmacopoeia. We conduct assays such as TAMC, TYMC, pathogen testing, and water/environmental monitoring. With GMP certification and two QPs, we also offer batch testing of human and veterinary medicinal products. Overall, our laboratory analyzes approximately 1,500 pharmaceutical samples annually, including OTCs, nutraceuticals, and supplements, along with 3,000 food and environmental samples. Our next goal is to enhance automation to handle larger volumes with the same staff."
Eva Tothová continues along the same lines: "Investment is key. We have gradually expanded our facilities to meet the increasing global demand for testing medicines and pharmaceutical raw materials. Our lab now includes laminar boxes, thermostats, sterile chambers, PCR thermocyclers, and other necessary equipment. We perform routine microbiological assays for sterile and non-sterile pharmaceuticals, pharmaceutical-grade water, emulsions for injections, cytostatics, as well as swabs, and environmental samples from medical facilities. EL is GMP-certified for batch testing of human and veterinary DPs and we hold Manufacturing and Importation Authorization (MIA) for QC testing and stabilities. We often coordinate with other departments on larger quality control projects, offering both partial and full batch testing, including endotoxin analysis, residual solvents, particle size and elemental impurities. Our QP issues the certificate of analysis (CoA) for batch release. Given the interest in our services keeps growing, I believe we are doing a good job".
Earning trust with expertise, versatility, and cost effectiveness
Mr. Rost underscores the importance of fostering rapport in their job: "Our long-term partnership with our pharmaceutical clients is quite an achievement. Our clients are very committed to us, and we have been able to grow together over the last few years. They know that they will always be served with high priority and that our services have been individually adapted to their needs. Our daily communications are very open and trusting, which makes the cooperation very pleasant for both sides. We would be very happy to find other pharmaceutical clients who are willing to entrust their quality control samples to us and benefit from our tailor-made approach".
Dr. Tothová underscores another fundamental aspect of service outsourcing: "And in addition to quality and expertise it is relevant to point out the advantage of price competitiveness: Our group has subsidiaries in regions which provide cost efficiency without compromising quality standards. Taking EL as an example, we are based in the dynamic region of Eastern Slovakia, a thriving European hub offering many advantages, including access to a pool of highly educated experts, state-of-the-art facilities, and favorable economic conditions. This allows us to maintain the level of expertise, precision, and reliability that our clients expect from us, all in a cost-effective package. Considering the level of unsolicited service inquiries that we are receiving from Asia and other distant regions; I believe it safe to assume we are well positioned".
Looking into the future: From local to global
Helmut Rost shares LVA's upcoming plans: "LVA is already renowned as a reliable and high-quality laboratory. We analyze our customers' samples according to their specific requirements across all service areas in our portfolio, indeed not just microbiology. Complexity is never a limitation for us, as we tackle even the most intricate issues; always under the highest standards. I already mentioned we are actively planning to further automate our processes, something we will accomplish through the implementation of cutting-edge AI solutions, and now that we are all part of the Conscio Group, collaborating with our partner subsidiaries will allow us to enhance our capacities".
Eva Tothová takes the chance to praise the proactiveness and collaboration within the Group: "At EL, we continuously monitor legislation to quickly adapt to new market demands. At present, we are enhancing our microbiological diagnostics with new PCR equipment and refocusing our microbiology and biology labs into distinct Pharma and Environment areas. As members of the Conscio Group, we can exchange knowledge across our different teams and access multiple GMP-certified facilities. Our specialized teams collaborate under centralized project management. This allows us to offer comprehensive services beyond microbiology and batch testing, covering the entire drug development process and enabling new and exciting cross-selling opportunities".
Here concludes our discussion with Helmut Rost and Eva Tothová. Our colleagues have shared valuable insights into the world of microbiology, batch testing, and more. With their experience, dedication to customer satisfaction, and global perspective, they are ready to bridge across sectors and continue assisting our clients throughout their projects, whether in the pharmaceutical sector or beyond.
CONSCIO GROUP is a European leading customer-centric contract research & development service provider for the pharmaceutical industry delivering customized end-to-end drug development solutions within the areas of innovative R&D and formulation, analytical QC and clinical solution as well as small scale manufacturing. Conscio Group members include LVA (Austria) EL Labs (Slovakia) Quinta-Analytica (Czechia) Gen-Plus (Germany) and HyServe (Germany). Visit www.consciogroup.com for more information.
Article by Albert Pineda