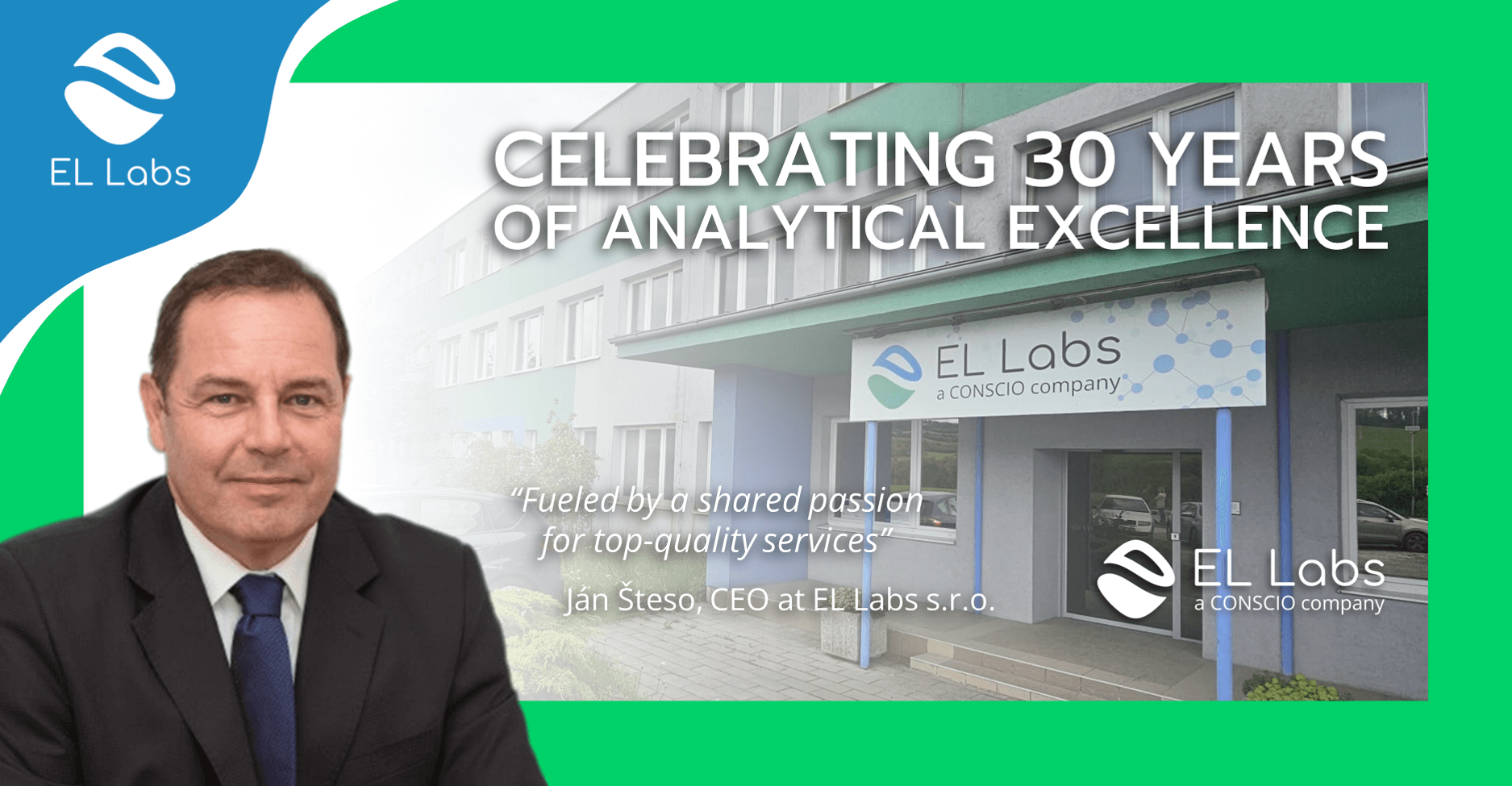 We are delighted to share with you some key moments from the grand celebration event to commemorate the 30th anniversary of EL Labs, which took place this week in Spišská Nová Ves, Slovakia. The event blended past, present and future as we reflected on the remarkable journey that brought EL from its now distant foundation to where it stands today as part of the Conscio Group. Join Ján Šteso, CEO of EL Labs, to celebrate EL's dedicated team, the challenges they overcame, and the key milestones that shaped EL's evolution:
"This week we celebrate the remarkable journey of EL Labs on our 30th anniversary. It fills me with great pride to reflect on the accomplishments we have made since our establishment. Throughout these three decades, EL Labs has remained committed to delivering cutting-edge solutions in analytical chemistry, environmental science, microbiology and biochemistry. Back in 1992, when we were founded as EL spol. s.r.o., our vision was clear: To build a modern and dynamic accredited testing laboratory in the region. Our primary goal was to actively engage in activities related to the environment, food production, quality control, and applied research. Today, I am thrilled to say that we have not only achieved these objectives but exceeded them in ways we could not have imagined."
"Quality science has always been an integral part of our identity. From our very beginnings, EL Labs nurtured strong collaborations with prestigious academic institutions, such as the Slovak Academy of Sciences (SAV), Slovak University of Agriculture in Nitra (SPU), Comenius University in Bratislava (PriF UK), and the Slovak University of Technology (STU). These partnerships have played a pivotal role in our applied research endeavors, allowing us to develop and transfer demanding laboratory techniques and methodologies that have yielded excellent results. And so, our company kept growing."
"Over the years, EL Labs has diversified its activities, expanding into multiple market segments, including healthcare, geology, ecology, food, water management, and agriculture. Our core business revolves around laboratory work, testing various products and raw materials. We serve an exceptionally large range of industries, analyzing pharmaceuticals, food and feeds, chemicals, cosmetics, industrial products, all water types and much more. Our extensive portfolio includes physicochemical, biological, microbiological safety, ecotoxicity tests and our operations now extend across the entire territory of the Slovak Republic, the EU, and far beyond. Quite a remarkable trajectory."
"But none of that would have been possible without our highly skilled workforce: The true heart of our company. EL Labs boasts a team of 80 specialized professionals fueled by a shared passion for delivering top-quality services and adapting to customers' needs. With their tireless efforts, optimal methods, global standards, and state-of-the-art technology, they are the driving force behind our achievements. As we celebrate our 30th anniversary, I extend heartfelt gratitude to our employees, partners, customers, and friends who played integral roles in our success. Your unwavering support and trust have been invaluable. We also remember Mr. Blahut, our esteemed founder and those who like him are no longer with us. Their vision and dedication laid the foundation of EL Labs and will forever be part of our company's history."
"Looking ahead, EL Labs remains committed to driving innovation and staying at the forefront of laboratory testing services. In 2021, EL Labs joined the Conscio Group, a network of quality science companies, and I couldn't be more excited about this new phase of our growth. With shared expertise and resources, plus new synergies that propel our collective growth, we are poised to expand collaborations, forge new partnerships, and uphold our dedication to quality, reliability, and customer satisfaction. Together, we will pave the way for a better, more sustainable future."
The event was graced by the presence of the CEOs from the 6 member companies of the Conscio Group, BBA Capital Partners, local authorities, press, and the entire staff of EL Labs. This diverse gathering contributed to fostering a sense of unity and commitment. Together, as one cohesive unit within Conscio, EL Labs embraces the challenges and opportunities that lie ahead, confident that our shared vision and dedication will lead us to surpass the heights achieved in the last 30 years.
EL Labs is a GMP/ISO/IEC-certified and U.S. FDA-inspected European CRO offering analytical services for the pharmaceutical, food & feed, environmental and industrial sectors. Founded over thirty years ago in Spišská Nová Ves, Slovakia, and part of the Conscio Group, EL Labs specializes in microbiological, physicochemical and testing services. Visit www.el-labs.com for more information.
Conscio Group is a network of quality science organizations committed to ensuring good health for all by improving the safety and reliability of food and pharmaceuticals. Conscio members include LVA (Austria), EL Labs (Slovakia), HyServe (Germany), Quinta-Analytica (Czechia), Gen-Plus (Germany) and Ekolab (Slovakia).
‍Article by Albert Pineda